Easy 6 Ingredient Cashew Garlic Cream Sauce Recipe
Easy 6 Ingredient Cashew Garlic Cream Sauce Recipe
This garlic cream sauce recipe is made with cashews instead of heavy cream making it a dairy-free cream sauce recipe. It is the perfect white sauce for homemade pizza and is so easy to make.
Disclosure: This post contains affiliate links for your convenience. Click here for my full disclosure policy.
Cashew Garlic Cream Sauce Ingredients
You only need 6 simple ingredients to make this creamy garlic sauce.
1 cup raw cashews
4 Tbsp olive oil
6 fresh garlic cloves
juice from 1/2 a lemon
1/4 tsp kosher salt
up to 1/4 cup water as needed
You will also need a food processor. This is the one we have and love here: food processor.
How to Make a Delicious White Sauce Recipe
Softening Cashews
Cashews are a healthy fat and somewhat soft nut. But we need to soften them up a bit more to make this simple sauce. Make sure that you are using unsalted, unroasted, raw whole cashews. You can find them online here: Cashews. To soften the cashews place them in a bowl.
Then heat water in a tea kettle or saucepan on the stove. Pour the hot water over the raw cashews and let sit for about 15 minutes.
After 15 minutes drain the cashews using a wire mesh strainer.
Blend in a Food Processor
Add the softened cashews to the food processor. Then add lemon juice.
Add the garlic cloves. According to garlic lovers, you can never have too much garlic. Feel free to add more if you'd like. If you prefer roasted garlic, you are welcome to roast it first. We are using fresh garlic.
Next, add the olive oil.
Finally, add the salt and blend. We love that this creamy sauce recipe requires no cooking process. The whole process is easily done in a food processor.
While the homemade sauce is blending slowly add the water to the food processor and continue until you achieve a smooth consistency.
Homemade Cashew Garlic Cream Sauce for Pizza
Use a spatula to spoon all of the delicious sauce out of the food processor.
This versatile sauce is the perfect sauce for a garlic white pizza or even pickle pizza. It also makes a fantastic creamy pasta sauce when you are looking to switch up your pasta dishes. 
The garlic, lemon, and a little oil give this luscious sauce so much flavor. The whole family will love it. Next time, you are looking for an easy recipe to make break out the food processor and make this creamy cashew garlic sauce recipe to go with your pizza, pasta, or even grilled chicken. The possibilities are endless.
Store any leftovers in an airtight container in the refrigerator for 3-5 days.
*This creamy garlic sauce is dairy-free and gluten-free.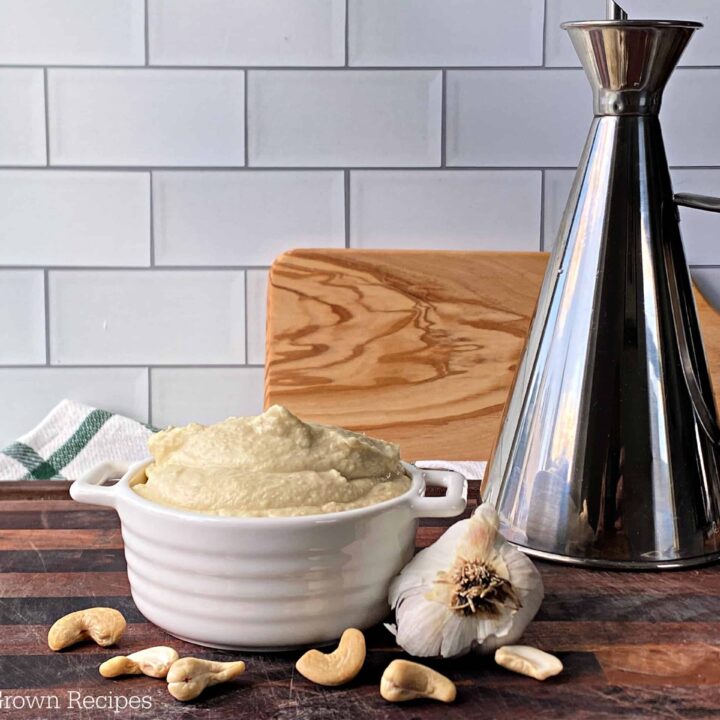 Easy 6 Ingredient Cashew Garlic Cream Sauce Recipe
Additional Time:
15 minutes
Easy cashew garlic cream sauce recipe for pizza and pasta. Made with simple ingredients and dairy free. Creamy garlic sauce.
Ingredients
1 cup raw cashews
4 Tbsp olive oil
6 fresh garlic cloves
juice from 1/2 a lemon
1/2 tsp kosher salt
up to 1/4 cup water as needed
Instructions
Place cashews in a bowl with hot water for 15 minutes to soften.
Then place all igredients in a food processor and blend until smooth.
Recommended Products
As an Amazon Associate and member of other affiliate programs, I earn from qualifying purchases.
Subscribe to find out what's new in the garden and in the kitchen. Sign up today!