Dill Pickle Pizza Recipe with Garlic Cream Sauce
Dill Pickle Pizza Recipe with Garlic Cream Sauce
This pickle pizza recipe is a bit out of the norm for our pizza-making. But it's perfect for pickle lovers! When you combine the tartness of the pickles with the crispy crust and creamy garlic sauce you may fall in love with this tasty pickle pizza.
Disclosure: This post contains affiliate links for your convenience. Click here for my full disclosure policy.
What You Need to Make the Best Pickle Pizza
This easy pickle pizza recipe does require a little prep work. We are working with other homemade ingredients, but we'll offer some alternative options at the bottom for you as well.
Ingredients:
homemade pizza dough
mozzarella cheese, cubed
olive oil
dill pickle slices
Tools:
pizza stone or pizza oven
pizza peel
How to Prepare a Dill Pickle Pizza
First, we are using our homemade artisan pizza dough recipe, and our homemade creamy cashew garlic cream sauce to make this pizza. The homemade fresh dough is a great recipe and will offer the best results, but you can use store-bought dough if that makes it easier for you.
First, work your pizza dough out on a lightly floured surface and gently press outward to form a crust.
Then stretch the dough a bit more using the tops of your hands before placing it on a lightly floured pizza peel.
Use a spoon to scoop 1-2 Tbsp of the creamy garlic white pizza sauce onto the dough. There is no need for garlic powder because this sauce is made with fresh garlic to give you the best flavor.
Spread a thin layer of the creamy sauce across the entire surface of the fresh pizza dough.
Next, top with about 1/3 cup of cubed mozzarella cheese and drizzle with olive oil.
Time for those tangy dill pickles! Before placing the dill pickle chips onto the top of the pizza, make sure to pat them dry with a paper towel to remove any excess dill pickle juice. If the pickles are too wet it could make your pickle pizza soggy, and no one likes a soggy pizza crust.
Cook the Perfect Pizza
Place the pizza into your pizza oven. Today we are using the Hans Grill Pizza Stone. It makes amazing pizza on the grill with the perfect crispy crust.
If you are using the Hans pizza stone on the grill, close the grill door immediately and let the pizza cook for 5-7 minutes. We like a thin crust so the 5-7 minute cook time is perfect. If you are making your pizza with a thicker crust you may need a bit longer.
Remove the pickle pizza when the crust is golden brown and done to your liking. Make sure not to burn the underside of the crust.
Easy Pickle Pizza Recipe for Pickle People
The gooey cheese and the garlic white sauce make the perfect creamy base for the sweet pickles pizza topping.
The number of servings depends on how large or small you cut your pizza slices. If you are a true pickle lover you will enjoy your pickle pizza with a side of whole dill pickles!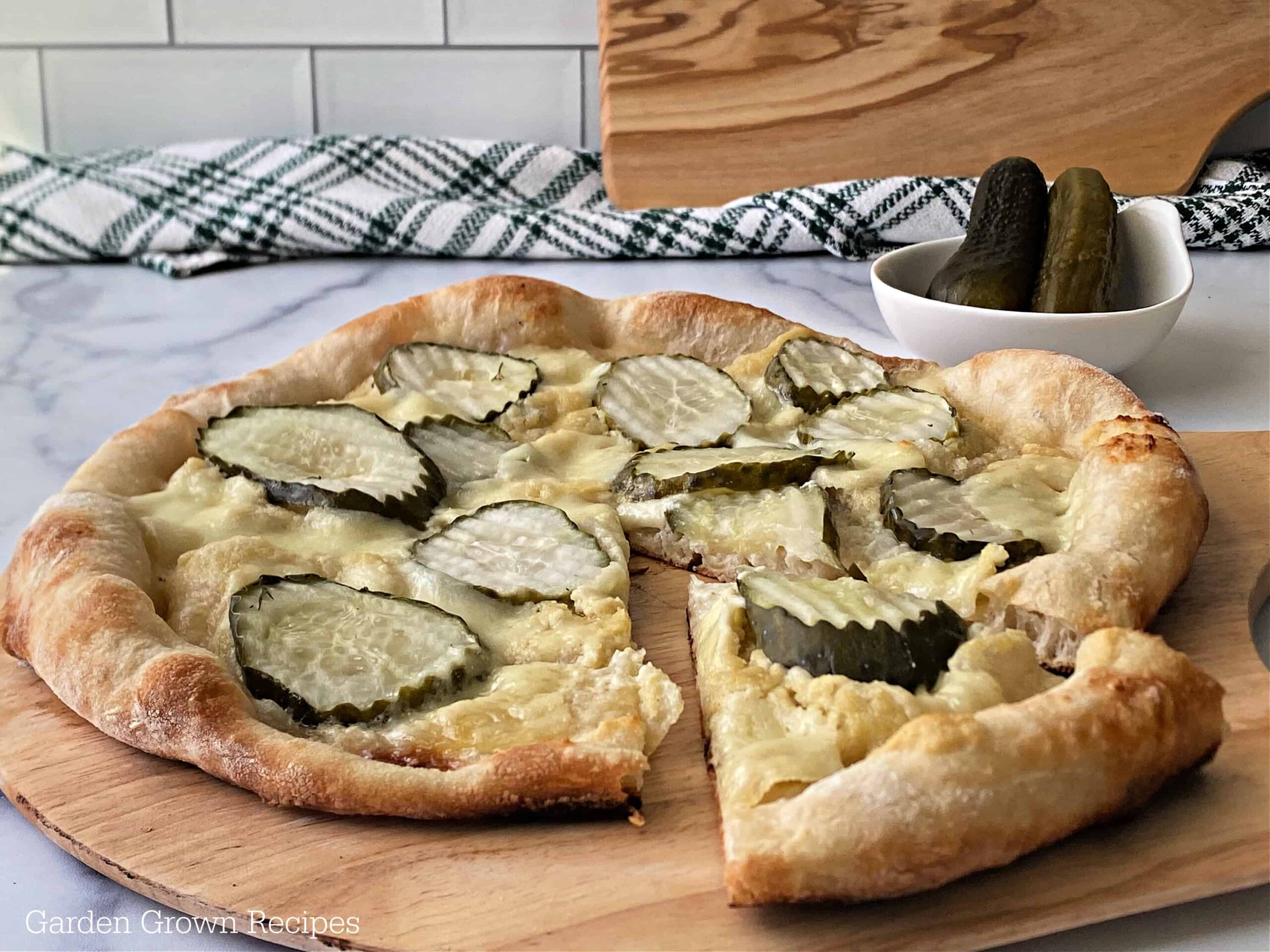 Make sure to check all of our other pizza related recipes: Pizza!
Dill Pickle Pizza Recipe with Garlic Cream Sauce
This pickle pizza recipe is for pickle lovers! Combine the tartness of the pickles, the crispy crust and creamy garlic sauce for a tasty pizza
Ingredients
homemade pizza dough
mozzarella cheese, cubed
olive oil
dill pickle slices
homemade garlic sauce
Instructions
Press the homemade pizza dough out onto a lightly floured surface to create a crust
Stretch the dough with the back of your hands
Place the pizza dough onto a lightly floured pizza peel
Spread 1-2 Tbps of homemade garlic white sauce ove the entire pizza
Top with mozzarella cheese and drizzle with olive oil
Pat pickles slices dry with a paper towel
Add pickle slices to the top of the pizza
Place pickle pizza in pizza oven
Enjoy
Recommended Products
As an Amazon Associate and member of other affiliate programs, I earn from qualifying purchases.
Nutrition Information:
Yield:

8
Serving Size:

1
Amount Per Serving:
Calories:

37
Total Fat:

3g
Saturated Fat:

1g
Trans Fat:

0g
Unsaturated Fat:

2g
Cholesterol:

3mg
Sodium:

77mg
Carbohydrates:

2g
Fiber:

0g
Sugar:

0g
Protein:

1g
Subscribe to find out what's new in the garden and in the kitchen. Sign up today!