Mushroom Pizza Recipe with Portobello Mushrooms
Mushroom Pizza Recipe with Portobello Mushrooms
This mushroom pizza recipe is simple and easy to make with tomato sauce, mozzarella cheese, and a crispy pizza crust. You can make this easy portobello mushroom pizza recipe right in the comfort of your home or yard with a pizza oven.
Disclosure: This post contains affiliate links for your convenience. Click here for my full disclosure policy.
Mushroom Lovers Pizza Ingredients
There's a bit of flexibility when making portobello mushroom pizzas, this is how we make ours. You will need:
You will also need a pizza oven. We love the Hans Grill Pizza Oven for use on the outdoor grill, or in the kitchen's oven. We also love the RoccBox outdoor propane pizza oven (similar to an Ooni). You can find them online here:
​Preparing a Delicious Mushroom Pizza
All great pizza starts with the dough. We are using our homemade pizza dough recipe. This recipe makes the best thin crust. You can use ours, or if you do not want to make your own pizza dough you can opt for store-bought. First, stretch the dough out before placing it on a pizza peel.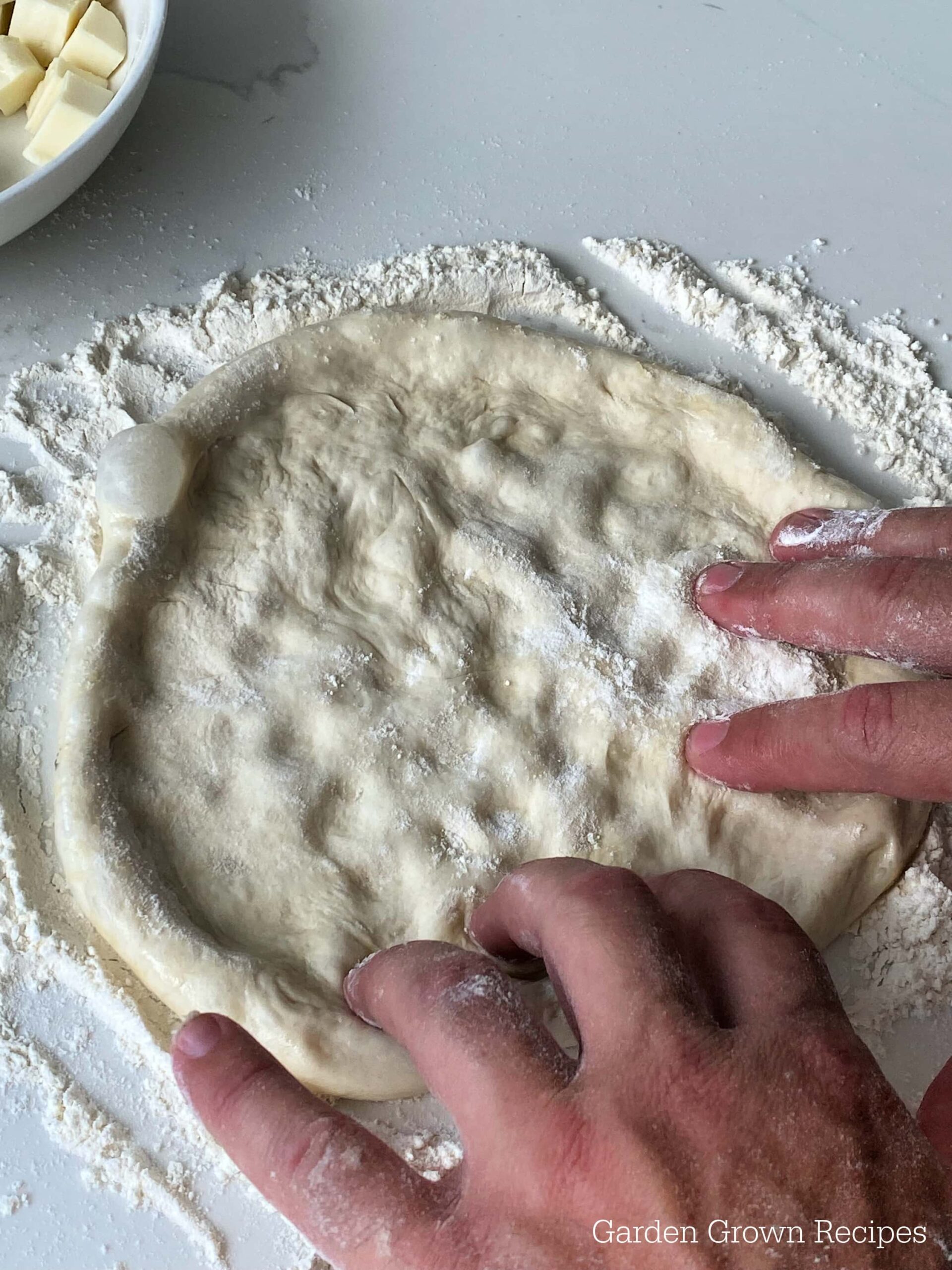 Then take a large spoonful of your favorite pizza sauce, we are using our easy homemade sauce recipe. You can use store-bought pizza sauce if you'd like.
Spread a thin layer of the sauce on the dough using the back of the spoon.
Next, add about 1/3 cup of cubed mozzarella cheese to the top of the pizza.
Then add the mushrooms. The kind of mushrooms you choose really depends on personal preference. Sliced mushrooms are the easiest to work with, we are using baby bella mushrooms. Here are a few other mushroom options you can use:
white button mushrooms
cremini mushrooms
sauteed mushrooms
oyster mushrooms
Next, drizzle a little olive oil on top of the pizza and then place in a hot oven.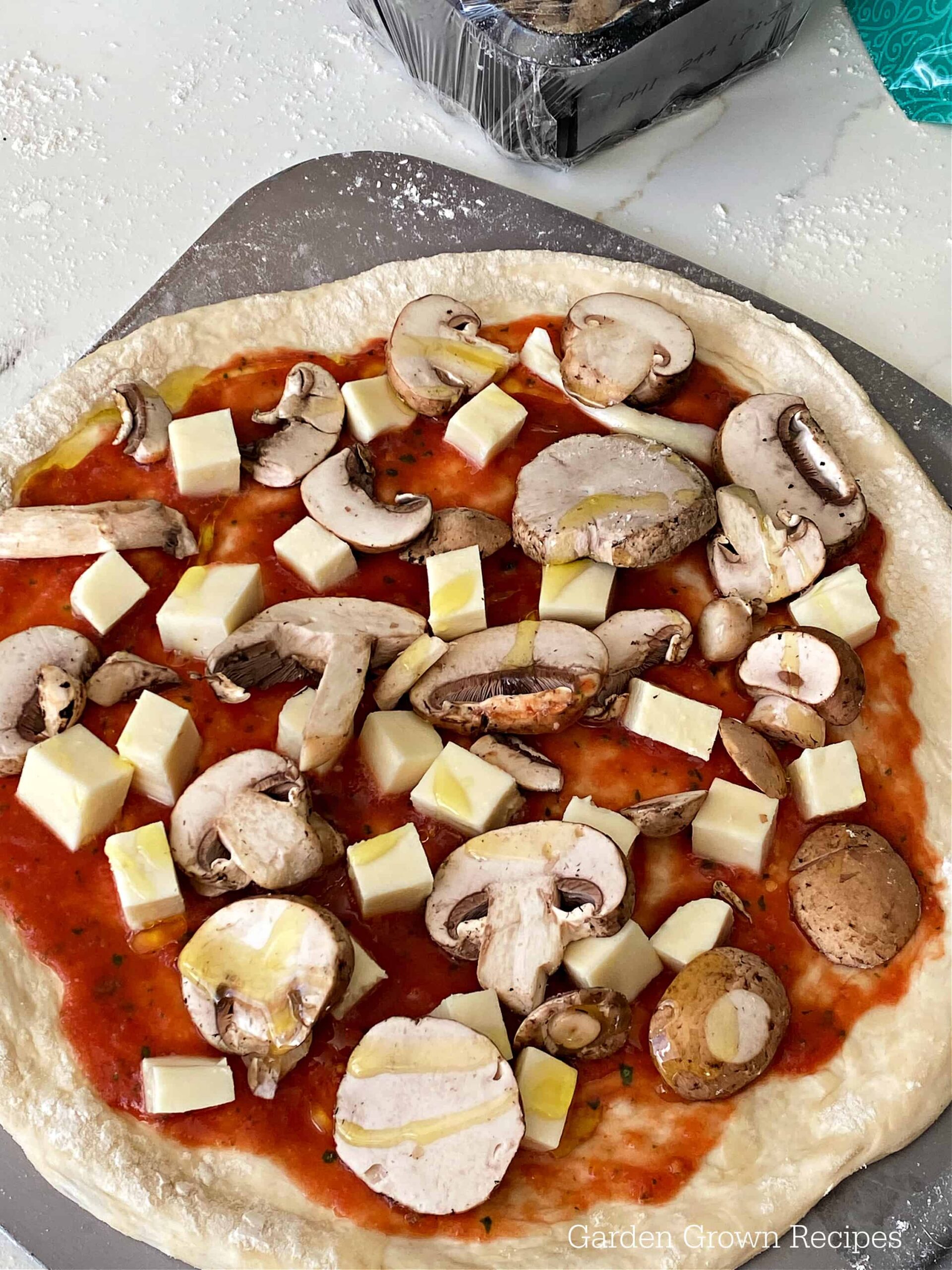 The Best Mushroom Pizza
When the pizza is finished cooking garnish with fresh basil leaves.
The best part of this easy pizza recipe is that you can alter it however you'd like. Feel free to change up the cheese and make a white pizza by adding ricotta with mozzarella and mushrooms instead of the red sauce. You can also add some of your other favorite pizza toppings like bell peppers, sweet onions, and cherry tomatoes if you'd like.
Make sure to check some of our other favorite pizza recipes here: Pizza, and plan your next pizza night. These also make an easy dinner for weeknight meals.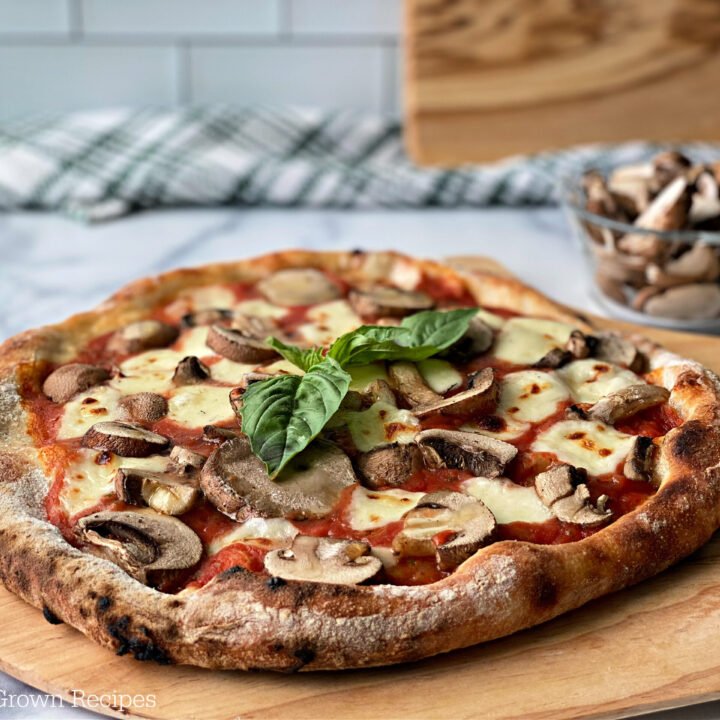 Mushroom Pizza Recipe
This mushroom pizza recipe is simple and easy to make with tomato sauce, mozzarella cheese, and a crispy pizza crust.
Ingredients
Pizza dough
Tomato sauce
fresh mushrooms
extra virgin olive oil
Instructions
Stretch out pizza dough to form a crust. Use homemade pizza dough or store bought
Spread a thin layer of homemade pizza sauce, or store-bought pizza sauce on dough
Top with cubed mozzarella cheese
Top with sliced mushrooms and a drizzle of olive oil
Cook in either the RoccBox pizza oven or Hans grill pizza stone
garnish with fresh basil
Notes
There are no set ingredients measurements because we are using our homemade dough recipe which makes. 8 pizzas. Our homemade sauce recipe makes enough for the 8 pies with some leftover. We use one package of sliced baby bella mushrooms with some leftover as well.
Recommended Products
As an Amazon Associate and member of other affiliate programs, I earn from qualifying purchases.
Subscribe to find out what's new in the garden and in the kitchen. Sign up today!