Mixed Berry Jelly Recipe with No Sugar Added
This mixed berry jelly recipe is perfect when you have fresh fruit that no one seems to eat. That's what happens in our house. Either the fresh berries are all eaten the minute they go into the refrigerator or they are ignored and left untouched. We decided to take advantage of the situation and make this easy mixed berry jam.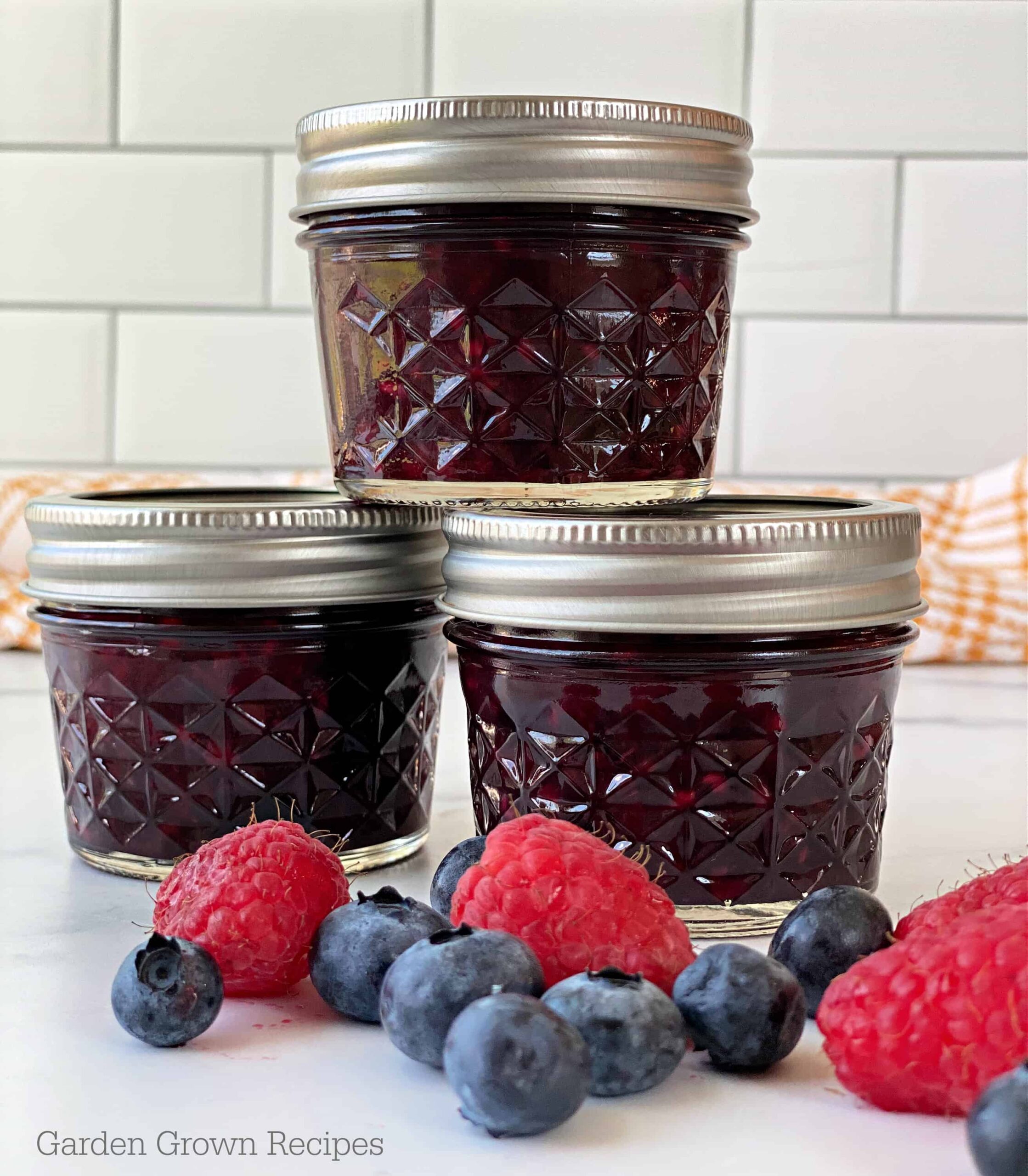 Disclosure: This post contains affiliate links for your convenience. Click here for my full disclosure policy.
What You Need to Make this Mixed Berry Jam Recipe
To make this simple jam you need a few simple ingredients:
3 cups of mixed berries
3/4 cup filtered water
4 1/2 tsp fresh lemon juice
2 1/4 tsp Real Fruit natural pectin
You will also need:
Boil the Jam Jars
Before getting started, place the empty jam jars in a pot with hot water to sterilize the jars. Make sure there is enough water to cover the whole jar. Boil for 20 minutes then carefully remove the hot jars and set them aside to cool.
Preparing the Berries for Mixed Berry Jelly
Use the produce wash to wash the berries. Soak the berries for a few minutes in a large bowl, and a small amount of produce wash mixed with water. This safely cleans the produce and washes away sprays, waxes, and soil.
Next, rinse the mixed berries thoroughly with fresh water and drain using a simple strainer.
The Berries
The combination of berries that you choose to use for this recipe is up to you. You can use just about any type of berry. We are using fresh raspberries and blueberries, but you can add fresh strawberries and make a triple berry jam if you'd like.
Lemon Juice and Pectin
This recipe also uses fresh lemon juice, you can use bottled lemon juice if that is what you have but the juice from fresh lemons always tends to taste better. Again, up to you.
For the pectin, this recipe calls for Ball low or no sugar needed Real Fruit Pectin. Keep in mind that the pectin you use makes a difference in the recipe. Meaning, that this recipe calls for 2 1/4 tsp of real fruit pectin, whereas, if you are using another pectin like Sure Jell you may require a different amount of pectin and you may require sugar added. This is a great way to make your own jam with less sugar than the store-bought brands.
Now that the jars are boiled, the berries are washed and the lemons are juiced you can get started.
How to Make Mixed Berry Jelly
First, gently pour a layer of the mixed berries into the pot.
Use a potato masher to mash the berries into the bottom of the pot.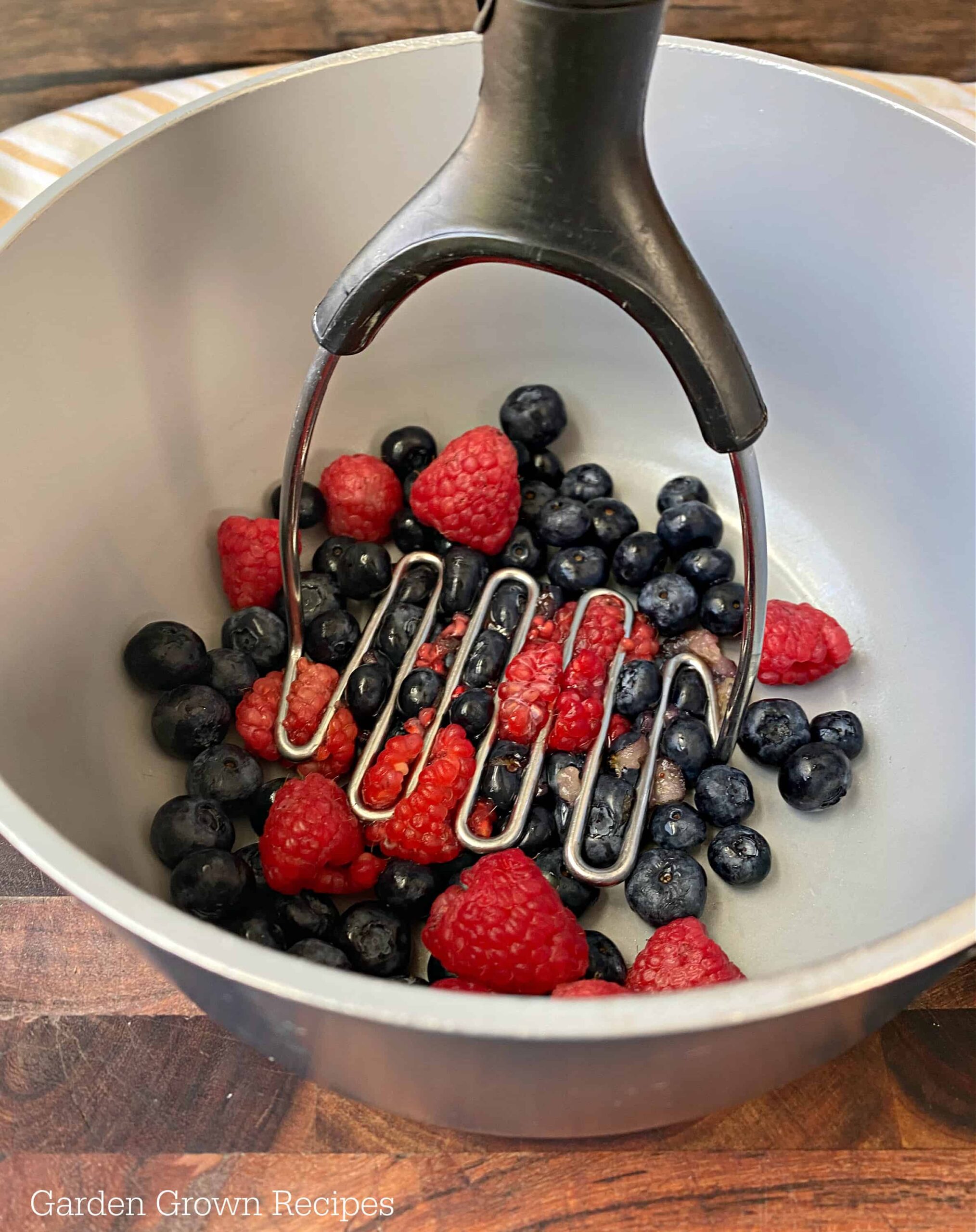 Add more berries and continue to mash. Do this until all of the berries are mashed.
Over medium heat, add the water to the mashed berries, continue to mash as needed.
Add the lemon juice to the fruit mixture.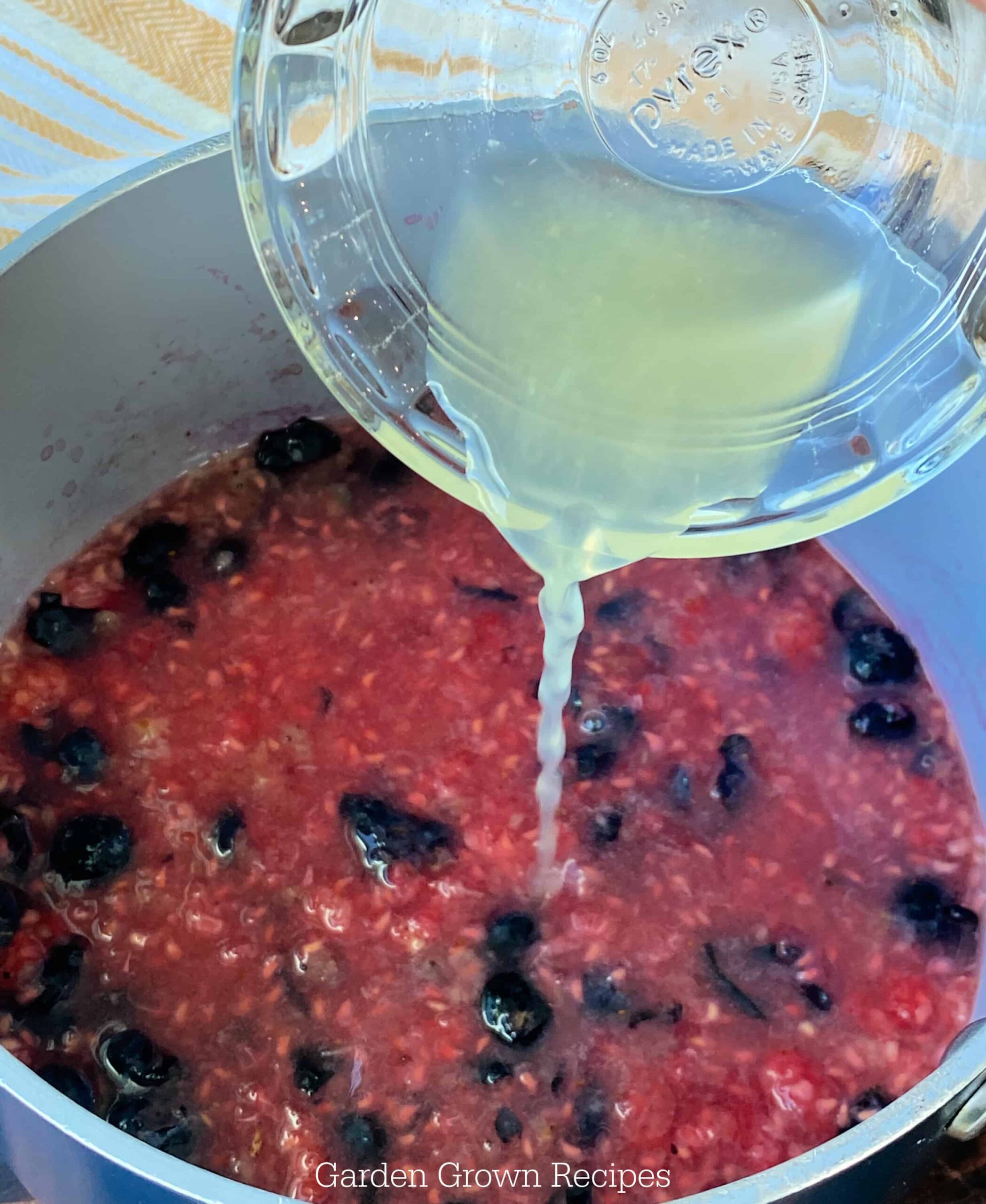 Next, bring to a full rolling boil and gently sprinkle in the pectin. Make sure to stir while adding the pectin to prevent clumping.
Continue to stir with a wooden spoon, for about a minute while the jam cooks into a thick boil. There is no need to cook any more than a couple of minutes at most.
Delicious Homemade Jam Recipe
Remove from the heat.
Use a large spoon or ladle to transfer the hot jam into the jelly jars.
Leave about a half-inch headspace at the top of the jam jar.
This easy jam recipe is so much better than anything you get in a store. It contains no added fruit juice, zero cups of sugar, and is made with just whole fruit.
Sealing the Jars
Secure the lids to jars of jam. Make sure to use new lids for each jar. Then place in a large pot again with hot water and boil the jars for 20 minutes to seal the lids. If you have a water bath canner, that works perfectly. If you don't, you can simply use a large stock pot.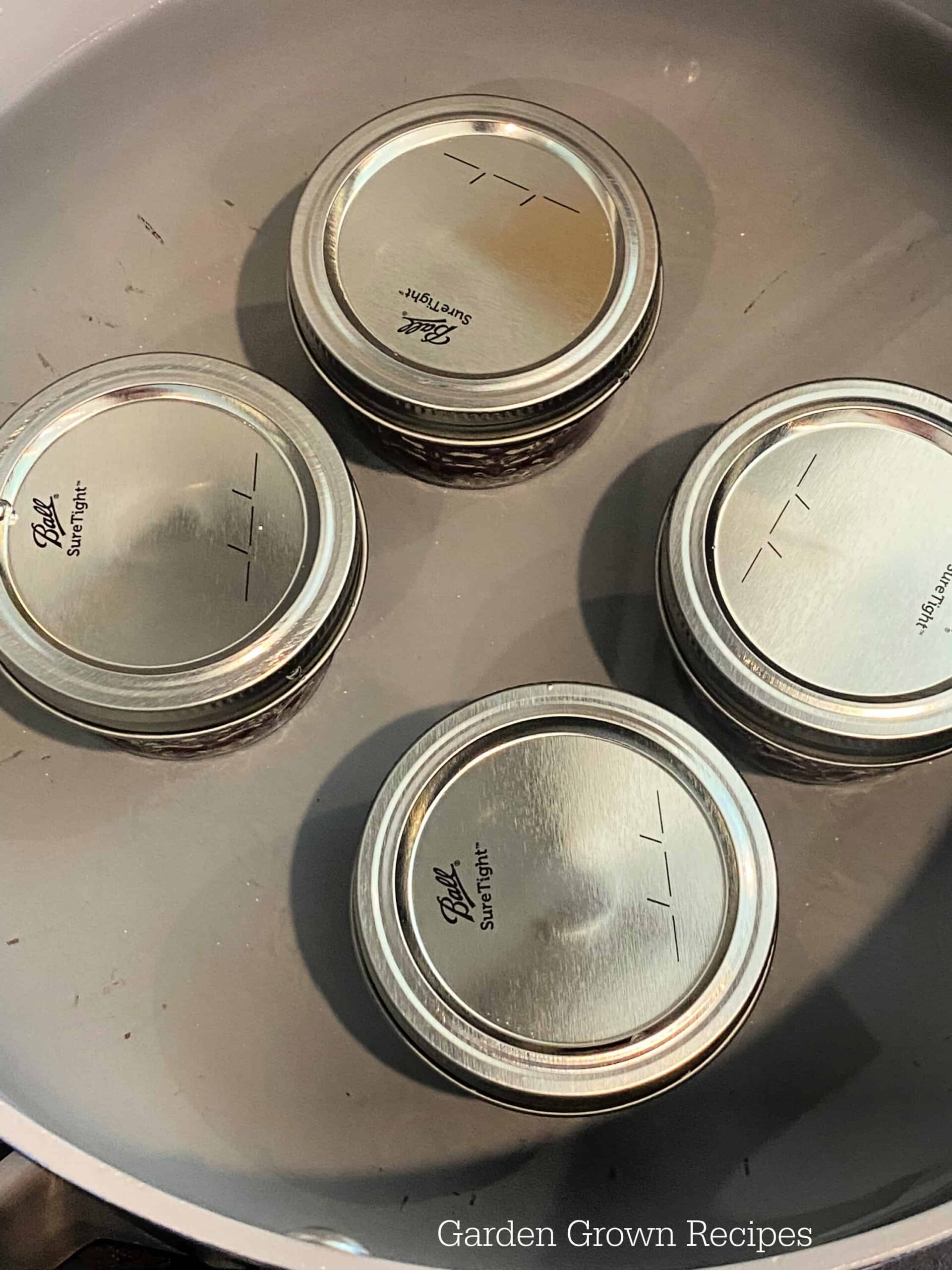 After 20 minutes remove the jars from the water and set them aside in a cool dark place. You may hear the pop as the lids seal. Come back after 24 hours and check the sealed jars. You can make sure the lids are sealed by pressing the center to make sure the center has pressed down. If the center is still up then the jar isn't sealed properly. You can store sealed jars in the pantry for future use. Any open jars of mixed berry jelly should be stored in the refrigerator.
Homemade No Sugar Added Jam
This easy mixed berry jam goes great on warm homemade bread. Or any bread or toast really. You can even put a bit of jam on ice cream if you'd like.
FAQs and Variations
Can I use frozen berries for this recipe?
We can only say 'Go for it' and see how it comes out. Since we use fresh berries, we can't say for certain whether or not frozen berries will work, but I don't see why not. 
I'd like to add sugar, how much sugar can I add?
The amount of sugar you add is up to you, we would suggest only adding up to 1/4 cup sugar if any. Any more than that may become too sweet. 
If you enjoy making your own jelly and jams make sure to check out this one: How to Make Hot Datil Pepper Jelly!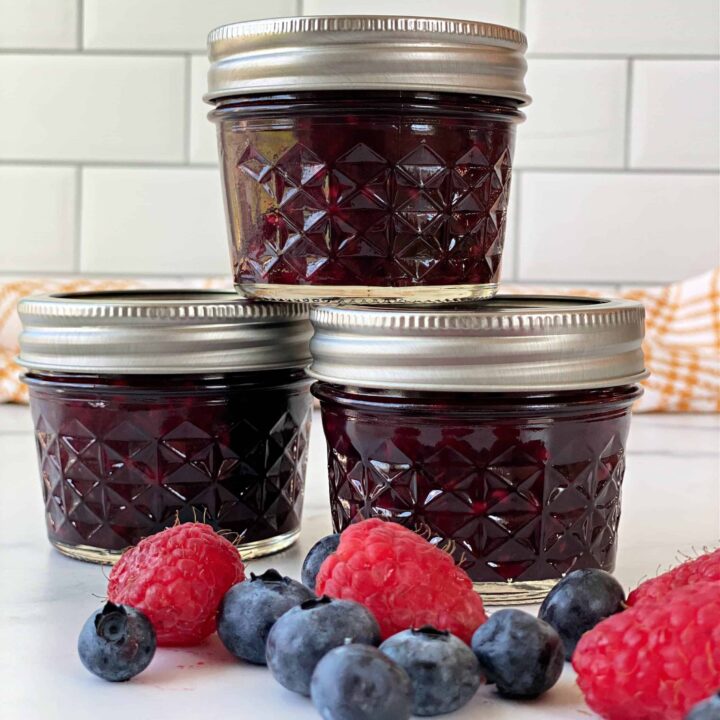 Mixed Berry Jelly Recipe with No Sugar Added
This mixed berry jelly recipe is perfect when you have fresh fruit and a little time. With natural pectin, whole fruit, and no sugar added.
Ingredients
3 cups of mixed berries
3/4 cup filtered water
4 1/2 tsp fresh lemon juice
2 1/4 tsp Real Fruit natural pectin
Instructions
Clean and rinse mixed berries
Boil jelly jars to sterilize
Add berries to a pot one layer at a time and mash with a potato masher
Continue to add berries and mash until all berries are in pot
Heat berries over medium heat, add water and lemon juice
Bring to a boil and sprinkle in pectin
Stir continuously to prevent clumping
Cook jam for about a minute
Remove from the heat and ladle hot jam into jelly jars.
Secure new lids onto jars and seal jars in a hot water bath
Set aside for lids to seal then store in a cool dark place.
Refrigerate any open jars
Notes
This recipe makes approximately 5 small jars of jelly. We use 4 oz jelly jars.
Recommended Products
As an Amazon Associate and member of other affiliate programs, I earn from qualifying purchases.
Subscribe to find out what's new in the garden and in the kitchen. Sign up today!