How to Smoke a Turkey on a Pellet Grill (with Brine)
Learn how to smoke a turkey on a pellet grill. Do you want to make the best-smoked turkey this holiday season? Try this delicious smoked turkey recipe with brine. We show you how to smoke a turkey on a pellet grill. This recipe will work with Yoder Smokers, The Traeger pellet grill, Pit Boss, or any type of smoker. There are only a few simple ingredients that give your turkey an amazing smoky flavor.
Disclosure: This post contains affiliate links for your convenience. Click here for my full disclosure policy.
To Smoke a Turkey on a Pellet Grill Size Matters
There are several factors to consider when selecting a turkey. First, you need to know how many people you will be serving. A good guide is to account for 1-1/4 to 1-1/2 pounds per person for a whole turkey. This is where a little math comes in, figure out how many pounds of turkey you will need based on how many people will be eating.
Next, determine if you are getting a frozen or fresh turkey. If you have the option to get a fresh, never frozen turkey, I highly recommend it. Nothing beats the fresh flavor and tender meat. If you are starting with a frozen turkey, it will need to be completely thawed before starting this recipe. You will need to plan ahead as a 12-14 pound turkey will need 3 to 4 days to completely thaw in the refrigerator.
Preparing the Turkey Brine
Remove the packaging from the turkey, and remove the giblet package and turkey neck from the cavity. Set these aside for your turkey gravy and stuffing recipes.
For this pellet smoker recipe, you will wet brine your turkey in a simple brine solution for 24 hours prior to cooking. Brining the turkey in a saltwater solution greatly helps maintain moisture in the meat while it cooks as well as provides a delicious flavor. Let's start by gathering our turkey brine ingredients.
Turkey Brine Ingredients:
1 cup of Kosher Salt
3 Gallon of cold water
In an extra large pot combine the salt with the water and stir until completely dissolved. Make sure the pot is large enough for the bird. You can get a large stock pot online here: stock pot.
Place the turkey in the brine and cover. The turkey should be submerged as much as possible in the brine. You may need to add additional water or weigh down the turkey with a plate.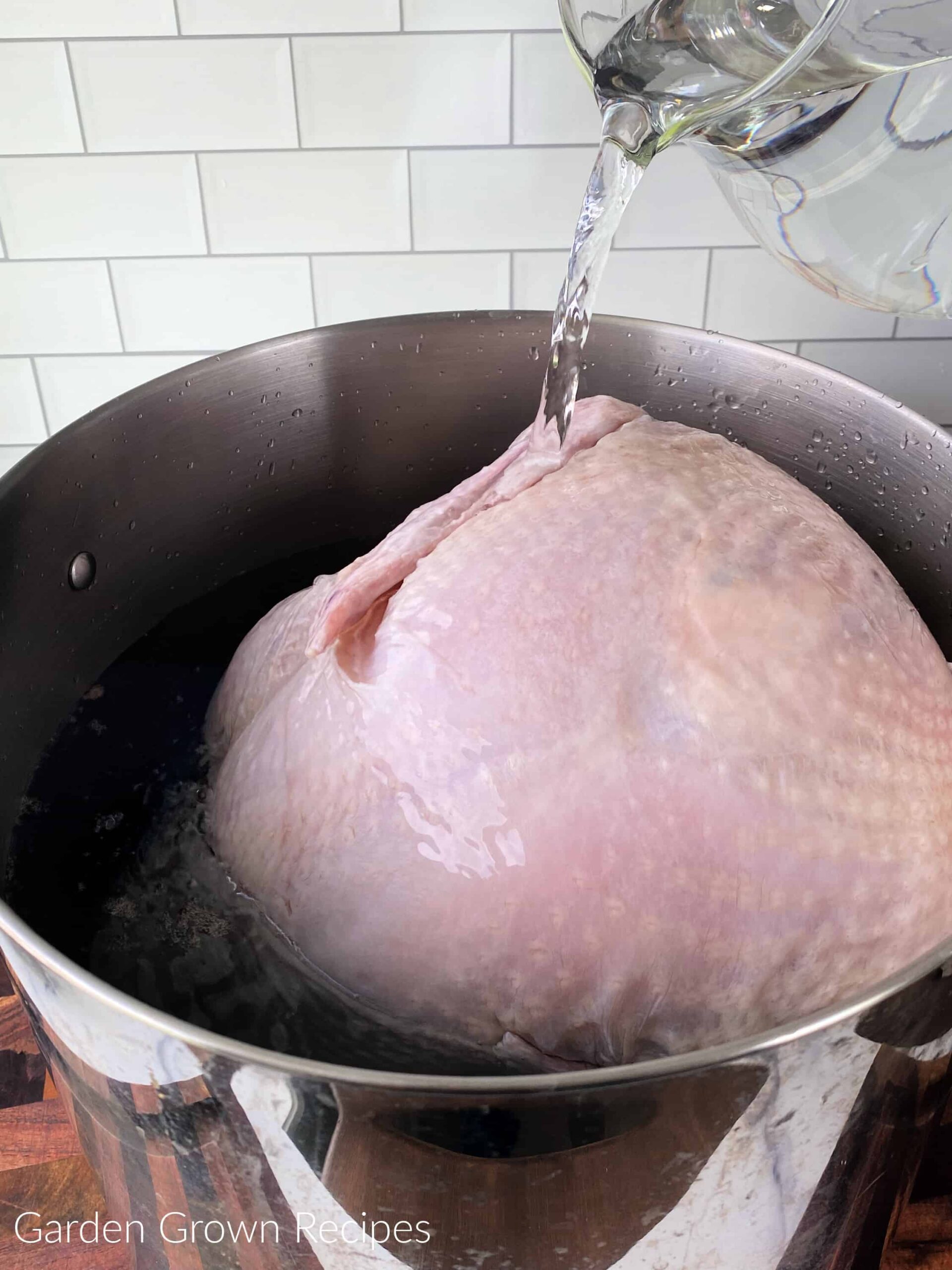 Place the pot with the turkey in brine in the refrigerator for 24 hours.
Preparing the Turkey for the Smoker
Remove the turkey from the brine and lightly rinse the whole bird.
Set the turkey aside to allow all remaining liquid to drain. Next, pat dry with paper towels. Drying the turkey thoroughly is very important, any remaining moisture will steam the turkey as it is first put onto the pellet grill and will adversely affect the flavor and texture of the meat. This is the only time a dry turkey is a good thing!
Place your turkey on a suitable cutting board and make 2 small incisions on either side of the bird in the thickest part of the breast and insert the wing tips into the slits. Tucking the wing tips will prevent the tips from burning as they are typically the fastest to cook.
Stuff and Season the Bird for the Pellet Smoker
Roughly cut carrots, celery, and onion. Save the vegetable scraps to add to your garden compost pile.
Stuff the chopped vegetables into the turkey cavity.
Next, you will season your turkey. The possibilities are endless for your turkey seasoning. Pick your favorite poultry seasoning, fresh herbs, or dry rub. For this recipe, we first simply coat the entire turkey with a thin layer of butter.
Then sprinkle coarse, cracked black pepper and kosher salt on top. Line a roasting pan with parchment paper or aluminum foil and place the turkey in it.
Preparing the Pellet Grill for Turkey
Load your wood pellet grill hopper with wood pellets. You can choose any wood you like. The ensuing debate of 'what is the best wood?', will be endless. We find the flavor from maple, apple or cherry gives the best results. We chose a Traeger's Signature blend of maple, cherry, and other hardwoods for this juicy turkey. You can get this blend here: Traeger signature blend.
Preheat your pellet grill to 250 degrees F.
When the grill temperature reaches 250 degrees F place the roasting pan with the turkey on the pellet grill. Position the pan furthest from the pellet burner. The most important thing is to cook the turkey evenly under indirect heat.
If your pellet grill is equipped with temperature probes, insert each temperature probe into the thickest part of the turkey breast. Or one in the breast and one in the thigh. Even if your pellet grill does not come with integrated temperature probes, we highly recommend using a wireless meat thermometer like this. You will want to be able to monitor the temperature of the turkey without constantly opening the lid. Find them online here: meat probes.
Close your pellet grill and let the cooking process begin. The beauty of the pellet grill is that it does most of the work for you automatically. It will keep a consistent temperature and will provide a steady flow of smoke without much input from you! So sit back and relax while the turkey cooks.
Cooking Time for Smoking a Turkey in a Pellet Smoker
Estimate about 30 minutes per pound of turkey for the total cooking time. You will cook it until the internal temperature reaches 165 degrees F. For a larger turkey over 10 pounds, you can remove it from the pellet grill when the internal temperature reaches 160 degrees f. While the turkey rests, carryover cooking will continue and the internal temperature will rise. Take smaller turkeys off at 165 degrees F.
Crisping the Turkey Skin
When the internal temperature has reached 150 degrees F, increase the temperature of the pellet grill up to 325 degrees F. Continue cooking until the internal temperature of the turkey is 160 degrees F (large turkey) or 165 degrees F for smaller birds. The higher temperature and added heat will finish off the turkey with a golden brown, crispy skin.
Allow the Whole Bird to Rest
After removing the turkey from the smoker, place it on a large cutting board and remove the carrots, onions, and celery from the cavity. Now, cover the entire bird with aluminum foil and allow it to rest for 20 minutes. This resting time allows the carryover cooking to continue and retains the juices in the meat.
Carve the turkey, serve, and enjoy! This delicious smoked turkey goes great with these Spicy Roasted Potatoes.
Delicious Smoked Turkey on a Pellet Grill
Thanksgiving dinner won't be the same again now that you know how to smoke a turkey on a pellet grill. Get rid of that old roasted turkey recipe because this is the best smoked turkey that you will ever eat. This perfect turkey with juicy breast meat and amazing smoke flavor is just as delicious the day after too. Leftover smoked turkey can be stored in an airtight container in the refrigerator and enjoyed for 3-5 days.
FAQs and Variations
Can I make this smoked turkey on a gas grill or charcoal grill? You can follow the same steps for the brine and seasoning but for best results, we recommend an electric smoker like the ones mentioned above.
If I don't have the temperature probes can I use an instant-read thermometer? You can get the probes online here: meat probes, otherwise yes, you can use an instant read thermometer. Just try not to open the smoker too many times. 
Where can I get the best pellets to smoke a turkey? We love these here: Traeger signature blend.
What is a good pellet smoker to smoke a turkey? Here are a few options for different brands of electric pellet smokers in different price ranges:
When you have filled your belly with delicious smoked turkey and have leftovers, here are over 20 different recipes for using that leftover smoked turkey:
How to Smoke a Turkey in a Pellet Smoker
Thanksgiving dinner won't be the same again once you know how to smoke a turkey on a pellet grill. Juicy tender breast with crispy turkey skin is the perfect turkey.
Ingredients
1 turkey
1 cup of Kosher Salt
3 Gallon of cold water
Instructions
Thaw turkey if frozen.
Prepare turkey brine with kosher salt and water in a large stock pot.
Remove turkey from packaging, remove giblets and neck from cavity.
Place turkey in stock pot with brine, cover and place in refrigerator overnight.
Remove turkey from brine, lightly rinse and pat dry.
Chop vegetables of choice (carrots, onions, celery), and stuff cavity with vegetables .
Rub turkey with a light coating of butter and season with salt and pepper.
Load smoker hopper with pellets and preheat pellet grill to 250 degrees F.
Insert temperature probes into turkey breast and thigh.
Place turkey in a parchment paper lined roasting pan.
Put turkey in the smoker, furthest from the pellet burner.
Calculate cooking time based on weight of turkey.
When the internal temp reaches 150 degrees F increaase smoker temp to 325 to crisp the skin.
Remove the turkey when the internal temp reaches 165.
Remove vegetables from inside the turkey, cover the turkey with aluminum foil and allow it to rest for 10-20 minutes.
Carve and enjoy.
Recommended Products
As an Amazon Associate and member of other affiliate programs, I earn from qualifying purchases.
Subscribe to find out what's new in the garden and in the kitchen. Sign up today!